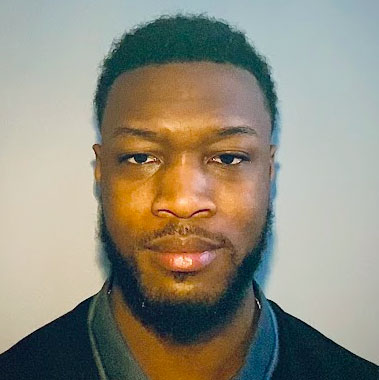 Larson Ashford '24 PEAKE FELLOW
Born and raised in Indianapolis, Indiana, Larson grew up inspired by entrepreneurs in his family. Larson's father founded a local tea shop specializing in imported blends that cultivated Larson's own passion for small business and logistics. The shop gave Larson a chance to help his dad innovate every day across all parts of the operation where he also assumed the role of Ashford Tea Company's Social Media Manager.

Larson went on to study logistics at Savannah State University as a student athlete. College honed his ability to multitask as a President's Academic List student and Co-Captain of the Men's Basketball Team. Larson was recognized for his role in boosting Savannah State's enrollment with a 1st Place Marketing Group Project Award, and his Savannah State Tigers became the Men's Basketball SIAC Conference Champion.

Professionally, Larson served as a Communications & Clinical Outreach Linkages Manager for the city's Healthy Savannah project.

Larson earned a Bachelors in International Business and Logistics graduating Magna Cum Laude from Savannah State University in 2021. He is a May 2023 Savannah State Masters in Business candidate and is finishing his last year playing NCAA Division II basketball. Larson views his Peake Fellowship as a way to strengthen community business ecosystems by geography and industry at the same time that he strengthens his data analytics skills.


Excerpt from Larson's nomination to the Mary S. Peake Fellowship Selection Committee:

"It is with great enthusiasm and excitement that I nominate W. Larson Ashford for the Peake Fellowship on behalf of Savannah State University and President Kimberly Ballard-Washington. Larson is an outstanding person with passion, energy, and determination to excel as a scholar at Savannah State University."




Horace Broadnax
Head Men's Basketball Coach
Savannah State University