The Peake Fellowship, a nonprofit 501(c)(3), provides a one-year program for recent college graduates, returning veterans, and military spouses to develop next generation leadership skills as they coach small & local businesses to succeed in a
AI & big data
-driven world. The Fellowship was co-founded by Dean Emeritus John McArthur of the Harvard Business School and other Platform Development Team Founding Partners who were chosen for their pioneering contributions across industry, education, and public service. Through a competitive application process, outstanding recent college graduates, returning veterans, and military spouses are selected from throughout the United States. Each Peake Fellow trains small & local business leaders as part of an intensive 12-month Service Learning experience in partnership with local chambers of commerce.
The Peake Fellowship partners with Higher Ed Centers at Historically Black Colleges & Universities, Hispanic Service Institutions, Tribal Colleges and Universities, Regional Colleges & Universities, other National Liberal Arts Colleges and Research Universities, Community Colleges, and Vocational-Technical Schools. In conjunction with these higher ed institutions, the Peake Fellowship and its Applied Learning Partners will help the 50 U.S. states and 5 U.S. territories jointly mobilize to upskill adult learners in every community through 8,000+ local chambers of commerce and local chamber equivalents. The team started with the birthplace of the first American Industrial Revolution, the Blackstone Valley region and its chamber, as a role model for the nation.
For more than a decade, Venly has served as the Peake Fellowship Development Team leading the Peake Pilot Program to support each Fellow and other Community Navigators. The name Venly comes from the Venn diagram at the intersection of community and technology in a user friendly context (Ven + ly = Venly). Venly's social enterprise mission to help local businesses grow, create jobs, and strengthen each community served, continues to support the Peake Fellowship's Applied Learning & Teaching approach powered by AI & big data.
The Peake Fellowship Development Team expands the impact of MIT & Harvard's Open edX platform. To date, over 40 million learners and 100 higher ed institutions have benefited from the free, open source innovations of edX. To accelerate the reinvention and recovery of small & local businesses, the Peake Fellowship Development Team partnered with the leadership of the Historically Black Colleges & Universities Research and Innovation Network (HBCU RAIN), the Hispanic Association of Colleges & Universities (HACU), Caltech, Carnegie Mellon, University of Chicago, and University of California San Diego. This joint mobilization will improve the access, quality, and cost of Connected Online Education & Operations as part of a strength-based innovation process for Sustainable & Inclusive Growth locally and globally (glocally).
Learn more about the Peake Fellowship's 9 years of impact for: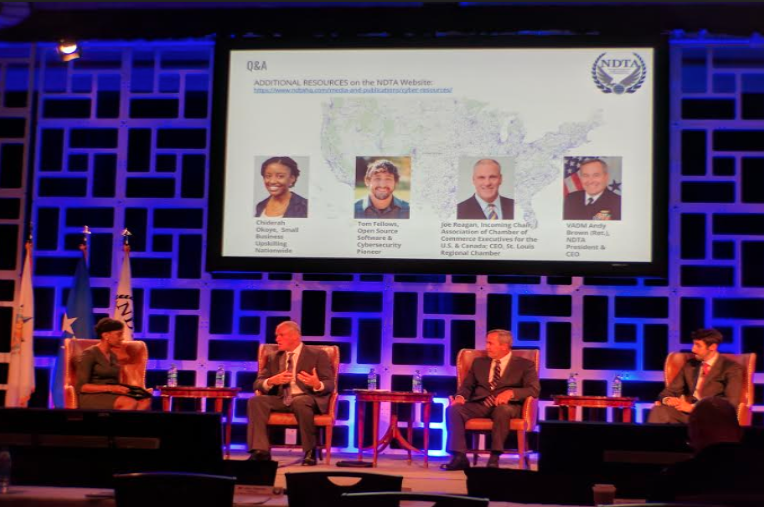 National Upskilling of Small & Local Businesses: Peake Fellowship Development Team Methodologies Lead – Chiderah Okoye (left) & Peake Fellowship Development Team Engineering Lead – Tom Fellows (right) leading a national business forum with St. Louis Chamber CEO/incoming Chair of the Association of Chamber of Commerce Executives (middle left) and the Admiral who leads U.S. Department of Defense (DoD) supply chain partnerships with the private sector (middle right).

Photo source: DoD